cross-train·ing
noun: cross-trainingtraining in two or more sports in order to improve fitness and performance, especially in a main sport.

krôsˈtrān/
verb: cross-trainpresent participle: cross-training; learn another skill, especially one related to one's current job.
If you participated in sports at any point in your life, you've probably come across the term cross training – not to be confused with CrossFit. While the latter certainly has proven to be a very viable form of working out, that's not the "cross" we will be covering here.
In general, cross training basically means you learn or acquire a variety of strengths and skills that can be used to complement one another to help you become a stronger, better athlete – or help you become stronger, better and more qualified at your profession.

MORE THAN JUST "DOING SOMETHING ELSE"
In listening to clients over the years, however, it seems the true meaning and purpose of the term 'cross-training' has gotten lost. The context with which I've heard the word used often refers to participating in some other activity, so its meaning has become much more generalized to encompass doing anything other than one's primary sport.
Cross training should have a specific purpose in relation to your goals – and should be beneficial both mentally and physically. Adding a few cross-training workouts to your weekly, bi-weekly or monthly workout regime could prove to be invaluable both in the immediate future and for years to come. Cross training can potentially help prevent and/or improve muscular imbalances, increase strength and agility, improve balance and stability, improve muscular and exercise endurance and prevent injury, to name a few.
One of the best examples of cross training is when football players take ballet lessons to help improve their football skills. This NFL video says it all, and is just plain fun to watch!
Even Arnold Schwarzenegger, a 7-time Mr. Olympia champion and one of the biggest health and fitness icons in the world, took ballet to add a little more grace to his stage presentation.
WHAT DOES CROSS TRAINING MEAN FOR YOU?
So, are you ready to sign up for ballet lessons? In all seriousness – what does all of this mean for you, how can you use cross training to achieve your goals?
Here are some things you might want to consider when looking at adding a cross-training workout to your fitness program:

#1 Time
First and foremost, look at your current schedule and see how many times per week, or month, you can incorporate another workout in. Even once or twice a month can be beneficial.
#2 Type
You'll need to figure out what type of cross-training workout would be beneficial for you. Ask yourself some questions, such as What areas do I need to strengthen or improve? What type of cross training would most help me improve in those areas?
For example, if you are a runner but you don't feel you have a lot of power or strength as a runner, you may want to dedicate some of your workouts to strengthening your glutes, hamstrings, core and back. Or if you are a bikini, figure, physique or bodybuilding competitor and cardio is a weak area for you because you don't have very high cardiorespiratory endurance, you may want to incorporate a couch-to-5k program or swim laps several times per week to help increase your heart and lung capacity.
Other popular types of cross-training include yoga, pilates, kick-boxing, cross-fit, martial arts and cycling.
#3 Purpose/Benefits
Finally, assess your progress by determining if you are achieving the goal you set out to achieve after adding the cross-training sessions to your program. Sometimes the biggest benefit of cross training could be simply providing a mental break from your normal routine. Adding a yoga or pilates class once a week, or every other week, for example, could may not only help prevent injury by adding more stretching to your program, but it could also provide deep breathing and mental relaxation exercises that can carry over into your regular workouts and fitness regime.
RELATED CONTENT
Tip Me Tuesday: Maximize Your Cardio
Tip Me Tuesday: The Waiting Game
Tip Me Tuesday: Trust The Process – And Your Trainer!
Tip Me Tuesday: Your Village Is The Key To A Healthy, Fit Body
Tip Me Tuesday: It's Not Always About The Calorie Burn
Tip Me Tuesday: It's Not Always About The Calorie Burn
Tip Me Tuesday: Change For The Better
Tip Me Tuesday: Don't Sacrifice Your Health For Your Looks
ABOUT NAOMI RABON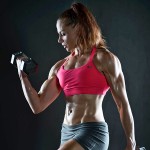 One of the trainers on Nicole's elite NW Fitness Training Team, Naomi is a certified Personal Trainer and Fitness Specialist through the National Academy of Sports Medicine. She is a NPC Figure competitor who has been involved in the health and fitness industry for over 12 years.
Go here to find out more about training with the NW Fitness Training Team!