You can transform a typically high-fat dish into something light and delicious – with the same amount (if not more) flavor!
How? Simply substitute reduced-fat versions, use less full-fat ingredients, choose healthy cooking methods and add flavorful spices!
This Florentine Stuffed Chicken Breast might typically provide 20 grams of fat (or more) if you ordered at your local restaurant, but my healthified version contains just 7.5 grams of fat per serving! Enjoy!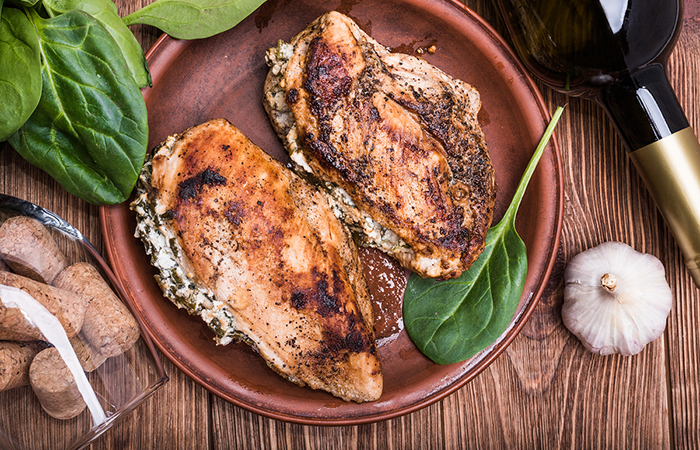 INGREDIENTS
• 2 tsp coconut oil (or oil of your choice)
• 1/2 cup chopped onion
• 2 tsp minced garlic
• 2 cups fresh baby spinach, roughly chopped
• 1/4 cup reduced fat crumbled Feta cheese
• 1/3 cup low-fat ricotta cheese
• Salt/pepper, to taste
• 4 boneless, skinless chicken breasts (6oz)
PREPARATION
• Heat up the grill! (Or, you can broil in the oven if you prefer)
• Heat a skillet over medium heat. Spray with non-stick cooking spray and add 2 tsp. coconut oil, onion, and garlic. Cook until golden brown, stirring frequently to prevent from burning.
• Remove skillet from heat and mix in spinach, feta, ricotta, salt, and pepper. Let sit for about 10 minutes to cool before handling.
• Create a pocket for the spinach mixture in each of your chicken breasts by cutting a lengthwise slit down one side of each chicken breast (do not cut all the way through).
• Evenly divide the cheese mixture into each pocket. Fold chicken over to seal in mixture and secure with toothpicks.
• Place each chicken breast onto it's own piece of aluminum foil and then onto the pre-heated grill. Cook for approximately 6 minutes, then flip chicken, being careful to avoid cheese from leaking out. Cook for an additional 5 minutes, or until chicken is fully cooked through and has reached your desired level of char.
NUTRITION INFO
(Per chicken breast; recipe makes 4)
240 calories, 38.5g protein, 5.5g carbohydrates (1 gram fiber), 7.5g fat
RELATED CONTENT
Fit Fixins: Healthy Belgian Waffle
Fit Fixins: Inside Out Baked Apple Pie
Fit Fixins: Low-Fat Shepherd's Pie
Fit Fixins: Eggplant Pizza Rounds
Fit Fixins: Banana Nut Overnight Oats
Fit Fixins: Grilled Shrimp Tacos
Fit Fixins: Gingerbread Heart Cookies
ABOUT ALLISON FRAHN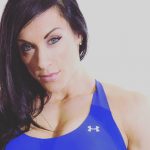 Allison is a five-time IFBB Figure Olympian who has a passion for healthy, yet delicious cooking. Allison owns Alli's Slim Pickins, Inc., a healthy food and recipe-based company. She is excited to share her years of experience with you and provide healthy recipes that proclaim her slogan: 100% Taste & 0% Guilt.
Want more recipes? Purchase Ali's recipe e-book here!