By Allison Frahn

How about a low-carb, Mexican-inspired dish that is absolutely delicious?
These Grilled Shrimp Tacos are packed with tons of sweet and spicy flavor, have an awesome variety of textures that combine soft tortillas with the crunchy slaw – and have 31 grams of protein and less than 300 calories!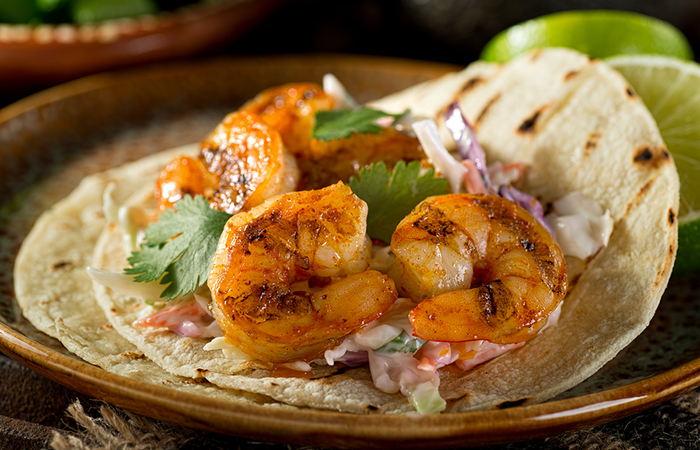 INGREDIENTS
• 12 oz shrimp, raw, peeled and tails removed
• 6 small low-carb tortillas (approx. 50 calories per tortilla)
Marinade
• 1/4 cup lime juice
• 1/4 cup rice wine vinegar
• 2 tsp garlic powder
• 1/4 tsp salt
• 1/4 tsp pepper
Dressing
• 3 tbsp nonfat plain Greek yogurt
• 2 tbsp lime juice
• 2 tbsp olive oil
• 1 1/2 tbsp rice wine vinegar
• 2 tsp granulated stevia (or your favorite sweetener)
• 1 tsp chili powder
• 1/2 tsp ground cumin
• Pinch salt
• Pinch pepper
Slaw
• 3/4 cup cabbage slaw mix (you can sub shredded cabbage)
• 1/4 cup chopped red onion
• 2 tbsp chopped cilantro

PREPARATION
• Put raw shrimp into a large Ziploc bag and add the marinade ingredients. Seal the bag and gently toss to thoroughly combine and coat the shrimp. Put in the fridge for 15 minutes.
• In the meantime, put all dressing ingredients into a large mixing bowl and stir well to combine.
• Next, add all slaw ingredients to the bowl with the dressing and stir well to coat. Set aside.
• Heat your grill or grill pan over medium-high heat (you can pan sear if you don't have a grill) and cook the marinated shrimp for approximately 3-4 minutes. Flip and cook for an additional 1-2 minutes, or until shrimp is fully cooked through with a light char.
• Arrange the low-carb tortillas onto a plate, layering two for each taco, and evenly divide slaw mix on top of each.
(NOTE: if you don't want to double up the tortillas, you can make 6 tacos instead of 3, you will just end up with smaller tacos)
• Next, divide the shrimp evenly and place on top of the slaw for each of the 3 tacos. Fold it over and eat it up!

NUTRITION INFO
(per taco – recipe makes 3)
280 calories, 31 grams protein, 13 grams carbohydrates, 11.5 grams fat


RELATED CONTENT
Fit Fixins: Gingerbread Heart Cookies
Fit Fixins: Pumpkin Spice Pancakes
Oatmeal Crisp Baked Apples
Fit Fixins: Baked Egg & Bacon Avocado
Fit Fixins: Mini Italian Omelet Muffins
ABOUT ALLISON FRAHN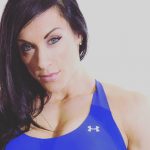 Allison is a five-time IFBB Figure Olympian who has a passion for healthy, yet delicious cooking. Allison owns Alli's Slim Pickins, Inc., a healthy food and recipe-based company. She is excited to share her years of experience with you and provide healthy recipes that proclaim her slogan: 100% Taste & 0% Guilt.
Want more recipes? Purchase Ali's recipe e-book here!