By Allison Frahn
Casserole is another name for a quick and delicious meal. Really? Well, not really but it's very fitting! The nature of casseroles is to basically throw a bunch of yummy ingredients into a big dish and bake it. The beauty about these dishes is that all the ingredients work together to create a flavor powerhouse with little prep and easy cleanup. That makes for a quick and delicious meal!
This Breakfast Potato Casserole is a perfect meal to serve your family and guests without spending a ton of time in the kitchen. Even better, it can be prepared the night before, so you just pop it in the oven in the morning. Enjoy!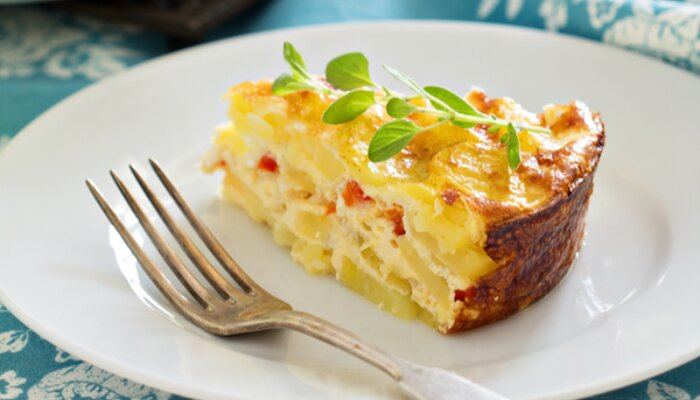 INGREDIENTS
• 4 cups golden potatoes, sliced 1/8-inch thick (about 1-1/4 lb)
• 2 cups fresh Vidalia onion, thinly sliced
• 1 large red bell pepper, finely chopped
• 1 1/2 cup egg whites
• 1 cup low-fat shredded Cheddar cheese
• 3 large eggs, lightly beaten
• 1/2 cup unsweetened almond milk
• 1 tbsp olive oil
• 1 tsp hot sauce
• 1 tsp salt
• 1/2 tsp ground black pepper
• 1/2 tsp dry mustard
• 1/4 tsp garlic powder
PREPARATION
• Boil the sliced potatoes in lightly salted water for approximately 5 minutes, or until slightly tender but still firm. Drain and set aside.
• In a large skillet heat olive oil over medium-low heat. Add onions to skillet. Cook and stir frequently for about 20 minutes or until lightly browned and tender. Remove from heat. Carefully stir potatoes and chopped bell pepper into the skillet with the onions.
• Preheat oven to 350 Fahrenheit.
• Spray a casserole or baking dish with non-stick cooking spray (I like butter flavored for this recipe). Spread potato mixture into prepared dish.
• In a mixing bowl whisk together eggs, egg whites, milk, and hot sauce. Add cheese, salt, black pepper, dry mustard, and garlic powder; stir until well mixed. Pour quickly and evenly over potato mixture in baking dish (if you allow the egg and cheese mixture to sit too long before pouring, the cheese will settle to the bottom).
• Bake, uncovered, for 45 minutes or until golden brown and the center is firm. Let stand for 15 minutes to fully set before slicing and serving. Enjoy!
NUTRITION INFO
(Per serving; recipe serves 8)
195 calories, 14g protein, 20g carbohydrates (2g fiber), 6g fat
RELATED CONTENT
Fit Fixins: Baked Flounder Fra Diavolo
Fit Fixins: Snickerdoodle Cookies
Fit Fixins: Chicken & Waffle Sliders
Fit Fixins: Slow Cooked Hearty Beef Stew
Fit Fixins: Tomato Basil Grilled Egg & Cheese Sandwich
ABOUT ALLISON FRAHN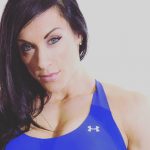 Allison is a five-time IFBB Figure Olympian who has a passion for healthy, yet delicious cooking. Allison owns Alli's Slim Pickins, Inc., a healthy food and recipe-based company. She is excited to share her years of experience with you and provide healthy recipes that proclaim her slogan: 100% Taste & 0% Guilt.