By Allison Frahn

I have got the perfect, simple, quick, yet completely scrumptious snack recipe for you. These Loaded Deviled Eggs are packed with flavor, are super healthy, and take just minutes to prepare!
Enjoy!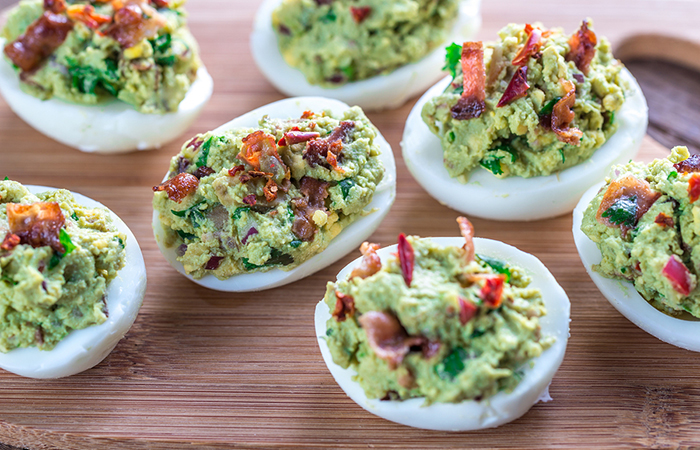 INGREDIENTS
• 3 hardboiled eggs, peeled
• 1/4 cup chopped avocado
• 2 slices turkey bacon, cooked and finely chopped
• 2 tbsp sundried tomatoes, finely chopped
• 2 tbsp red onion, finely chopped
• 2 tbsp nonfat plain greek yogurt
• 1 tbsp sweet red pepper, finely chopped
• 2 tsp dijon mustard
• 2 tsp fresh parsley, finely chopped
• Salt and pepper, to taste
PREPARATION
• Once you have all of your ingredients chopped, these bad boys take just minutes to prepare!
• Slice your eggs in half lengthwise. Remove the yolks and put yolks into a mixing bowl. Set egg white halves aside.
• To the bowl with the yolks, add ALL of your remaining ingredients and mix and mash well until you have a nice and uniform mixture.
• Evenly scoop this mixture back into each of the 6 egg white halves.
• Put in the fridge for at least 30 minutes prior to serving to allow mixture to set. Enjoy!
NUTRITION INFO
Per 2 deviled egg halves (recipe makes 6)
140 calories, 10 grams protein, 4 grams carbohydrates, 9 grams fat
RELATED CONTENT
Fit Fixins: Black & Brownies
Grilled Florentine Stuffed Chicken BreastFit Fixins: Healthy Belgian Waffle
Fit Fixins: Inside Out Baked Apple Pie
Fit Fixins: Low-Fat Shepherd's Pie
Fit Fixins: Eggplant Pizza Rounds
Fit Fixins: Banana Nut Overnight Oats
ABOUT ALLISON FRAHN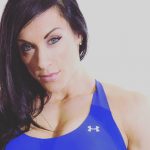 Allison is a five-time IFBB Figure Olympian who has a passion for healthy, yet delicious cooking. Allison owns Alli's Slim Pickins, Inc., a healthy food and recipe-based company. She is excited to share her years of experience with you and provide healthy recipes that proclaim her slogan: 100% Taste & 0% Guilt.
Want more recipes? Purchase Ali's recipe e-book here!