What better way to start your day than with a plate full of healthy, great-tasting pancakes?
Not only are my Pumpkin Spice pancakes absolutely delicious, but also they have no added sugar and contain a whopping 9 grams of fiber to keep you full and satisfied for hours. If you're looking for an even lighter meal or snack, cut the serving in half and eat with some scrambled egg whites.
Enjoy!
INGREDIENTS
• 1/2 cup whole wheat flour
• 1/3 cup oat flour
• 1 tbsp coconut flour
• 2 tsp baking powder
• 1 tsp pumpkin pie spice
• 1/2 tsp salt
• 2/3 cup unsweetened almond milk
• 1/2 cup pumpkin puree
• 1/4 cup egg whites
• 1 whole egg
• 3 tbsp granulated stevia (or preferred sweetener)
• 1/2 tsp vanilla extract
• 1 tbsp coconut oil, melted

PREPARATION
• Combine flours, baking powder, pumpkin pie spice, and salt in a large mixing bowl.
• In a separate large mixing bowl, whisk together almond milk, pumpkin, egg, egg whites, stevia, and coconut oil until well blended.
• Slowly stir in the dry mix to the bowl with the wet ingredients and mix until a batter is formed. Let the batter sit for about 5 minutes.
• Coat a large skillet with non-stick cooking spray and put over medium heat.
• Using a measuring cup, pour approximately 1/4 cup batter into the pan for each pancake. Cook pancakes until the edges are firm and you see bubbles covering the surface. Flip and cook an additional 2 minutes or so until both sides are golden brown. NOTE: if you notice that your pancakes start to get too dark, lower the heat as you continue to cook.
• Repeat this process (including coating the pan with spray) until you have used all the batter. Serve with your favorite sugar free syrup. Enjoy!

NUTRITION INFO
(per 2 pancakes)
344 calories, 15 protein, 45g carbohydrates (9 grams fiber), 13g fat

RELATED CONTENT
Oatmeal Crisp Baked Apples
Fit Fixins: Baked Egg & Bacon Avocado
Fit Fixins: Mini Italian Omelet Muffins
ABOUT ALLISON FRAHN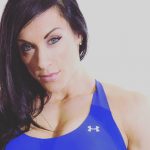 Allison is a five-time IFBB Figure Olympian who has a passion for healthy, yet delicious cooking. Allison owns Alli's Slim Pickins, Inc., a healthy food and recipe-based company. She is excited to share her years of experience with you and provide healthy recipes that proclaim her slogan: 100% Taste & 0% Guilt.
Want more recipes? Purchase Ali's recipe e-book here!