If you're looking for a sweet and satisfying breakfast treat, these White Chocolate Raspberry Protein Waffles are just perfect!
These waffles super light and fluffy AND low in carbs! Each delicious serving has only 11 grams of carbs, so if you're the type of person that chooses to not eat high carb meals in the evening, then have them for dinner too – because we all know we can enjoy breakfast any time of day!
Enjoy!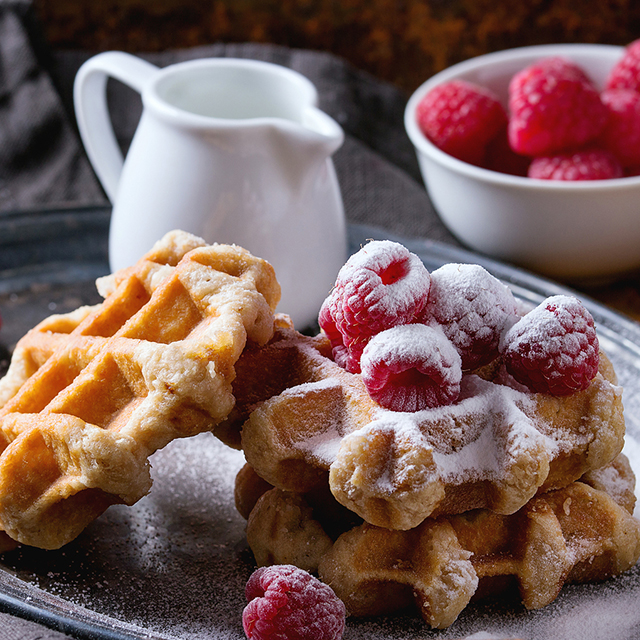 INGREDIENTS
• 3 scoops nPower Vanilla Cupcake Isolate protein powder
• 3 tbsp oat flour
• 3 tbsp coconut flour
• 1 tsp baking soda
• 1/4 tsp salt
• 2/3 cup canned evaporated milk
• 3 large eggs
• 2 tbsp coconut oil liquid (or you can just melt regular coconut oil)
• 1.5 tbsp sugar free white chocolate syrup (i.e. Torani brand)
• 1/2 cup fresh raspberries
PREPARATION
• Preheat the waffle iron and spray with non-stick cooking spray
• Mix together the protein powder, oat flour, coconut flour, baking soda, and salt until combined. Set aside.
• Separate the whites from the yolks and put the whites in one bowl and the yolks in a separate bowl.
• To the bowl with the yolks, add the evaporated milk, coconut oil, and white chocolate syrup. Mix until well blended.
• Use a spatula and combine the wet ingredients into the bowl with the dry ingredients and mix until combined.
• Now, here is the **key** to getting your waffles fluffy (especially when using isolate powder): beat the egg whites with a hand mixer (or you can use a whisk) until they thick and foamy (similar to a meringue)
• Use a spatula and gently fold into the batter just until combined. Do not overmix or they will not be as light and fluffy.
• Pour the batter in small batches into the waffle maker and cook until desired level of golden brown.
• Top with fresh raspberries and serve. Enjoy!
*Optional: Dust the top with some extra protein powder for a powdered sugar effect…or use a pinch of real powdered sugar – you can afford it with these low-carb babies!
NUTRITION INFO
(Per bite; recipe makes 12)
115 calories, 5.5g protein, 7g carbohydrates (1g fiber), 7.5g fat
RELATED CONTENT
Fit Fixins: Reduced Carb Whipped Mashed Potatoes
Fit Fixins: Almond Butter Protein Bites
Fit Fixins: Crispy Apple Cinnamon Chips
Fit Fixins: Frosted Carrot Cake Overnight Oats
Fit Fixins: Skinny Butternut Squash Fries
ABOUT ALLISON FRAHN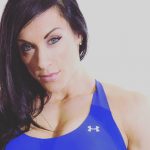 Allison is a five-time IFBB Figure Olympian who has a passion for healthy, yet delicious cooking. Allison owns Alli's Slim Pickins, Inc., a healthy food and recipe-based company. She is excited to share her years of experience with you and provide healthy recipes that proclaim her slogan: 100% Taste & 0% Guilt.