Instead of going to your local frozen yogurt shop, how about just going to your very own kitchen!
This recipe provides a delicious alternative to your standard fro-yo – and it's a unique, fun, and cheaper way to eat it! What's even better? You don't have to worry about your toppings spilling everywhere because they are frozen inside the yogurt.
Ok, one more highlight … only 130 calories per serving. So enjoy!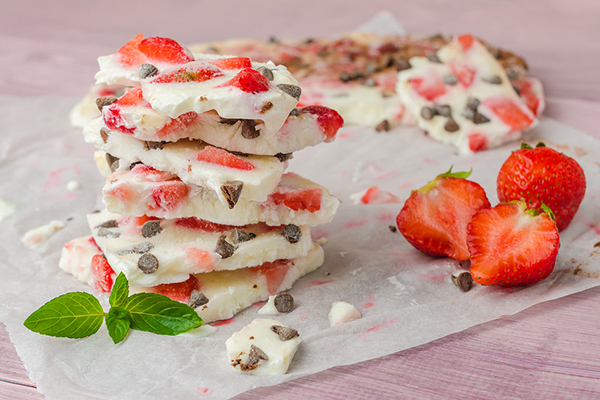 INGREDIENTS
• 1 1/2 cups plain nonfat Greek yogurt
• 3/4 cup strawberries, sliced/chopped
• 3 tbsp dark chocolate chips
• 2 tbsp granulated stevia
• 1 tbsp honey
• 1 tsp vanilla extract
• 1/8 tsp salt (or to taste)
PREPARATION
• Line a baking sheet with wax paper. Set aside.
• Add yogurt, stevia, honey, vanilla, and salt to a large mixing bowl and stir until thoroughly combined.
• Transfer yogurt mixture to wax-lined baking sheet and spread it around to an even thickness. Note, the more you spread it, the thinner it will be – so gauge it according to your desired thickness.
• Arrange the strawberry pieces on top of the yogurt and then sprinkle the chocolate chips evenly across the surface of the yogurt mixture.
• Freeze for at least 3 hours, or until frozen solid.
• Remove from freezer and carefully cut into pieces. Store in an airtight bag or container in the freezer. Enjoy!
NUTRITION INFO
(Per serving – recipe serves 4)
130 calories, 9g protein, 15g carbohydrates (1g fiber), 4g fat
RELATED CONTENT
Fit Fixins: Sauteed Veggie Omelete
Fit Fixins: Tuna Poke
Fit Fixins: Dessert Fruit Pizza
Fit Fixins: Low-Carb Italian Pasta Salad
Fit Fixins: Oatmeal Raisin Breakfast Cookies
Fit Fixins: Grilled Vegetable Flatbread Pizza
ABOUT ALLISON FRAHN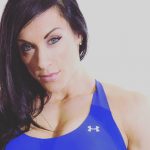 Allison is a five-time IFBB Figure Olympian who has a passion for healthy, yet delicious cooking. Allison owns Alli's Slim Pickins, Inc., a healthy food and recipe-based company. She is excited to share her years of experience with you and provide healthy recipes that proclaim her slogan: 100% Taste & 0% Guilt.
Want more recipes? Purchase Ali's recipe e-book here!