Zucchini is such a versatile vegetable. With it's mild flavor and subtle texture, it can be used in a variety of dishes.
But even Chicken Parm? Yes!
Using zucchini as the base for my Chicken Parm Stuffed Zucchini provides a low-carb alternative to the pasta or bread that is typically used, yet still allows for the full flavor of the filling to come through.
Enjoy!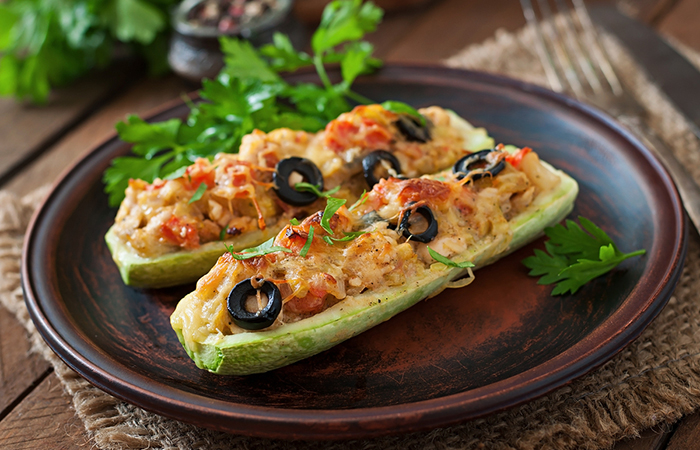 INGREDIENTS
(recipe makes 4)
• 2 large zucchini squash
• 1/2 cup tomatoes, finely diced
• 1/4 cup yellow onion, finely diced
• 12 oz grilled chicken breast, finely chopped
• 1/2 cup shredded low-fat mozzarella cheese
• 2 tbsp sliced black olives (optional)
Sauce
• 1/2 cup tomato sauce (approx. 60 calories per ½ cup)
• 2 tsp Italian seasoning blend
• 2 tbsp granulated stevia (or your preferred sweetener)
• Salt (to taste)

PREPARATION
• Preheat oven to 350 degrees F.
• Mix all sauce ingredients in small bowl. Set aside.
• Cut each squash in half lengthwise and scoop out flesh, leaving a 1/4-inch shell (be careful not to cut through the shell). Chop the removed flesh into tiny pieces. Set aside.
• Place the zucchini halves onto a baking sheet coated with non-stick cooking spray. Spread approximately 2 tbsp of sauce onto the bottom of each squash half. Put in the oven for 5 minutes.
• In meantime, spray a large skillet with non-stick cooking spray and put over medium-high heat. Add chopped squash, fresh tomatoes, and onion to the skillet and cook for approximately 5 minutes, stirring frequently, until mixture has softened. Remove from heat and stir in the chicken.
• Remove the squash halves from the oven and spoon 1/4 of the chicken mixture into each. Next, sprinkle approximately 2 tbsp of shredded cheese on top of each, followed by a few olives.
• Put back into oven and bake for 15 minutes, or until cheese is melted and golden brown and squash is heated through.

NUTRITION INFO
(per stuffed zucchini half)
215 calories, 33g protein, 11 g carbs (3g fiber), 13g fat

RELATED CONTENT
Fit Fixins: Pumpkin Spice Pancakes
Oatmeal Crisp Baked Apples
Fit Fixins: Baked Egg & Bacon Avocado
Fit Fixins: Mini Italian Omelet Muffins
ABOUT ALLISON FRAHN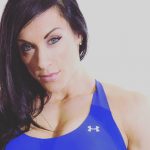 Allison is a five-time IFBB Figure Olympian who has a passion for healthy, yet delicious cooking. Allison owns Alli's Slim Pickins, Inc., a healthy food and recipe-based company. She is excited to share her years of experience with you and provide healthy recipes that proclaim her slogan: 100% Taste & 0% Guilt.
Want more recipes? Purchase Ali's recipe e-book here!