Talk about a dish that looks as delicious as it tastes! You will surprise your guests (and yourself) with how fancy and complicated that these beauties look, but they are super easy to prepare!
I like to serve these with brown rice and a nice big salad. Enjoy!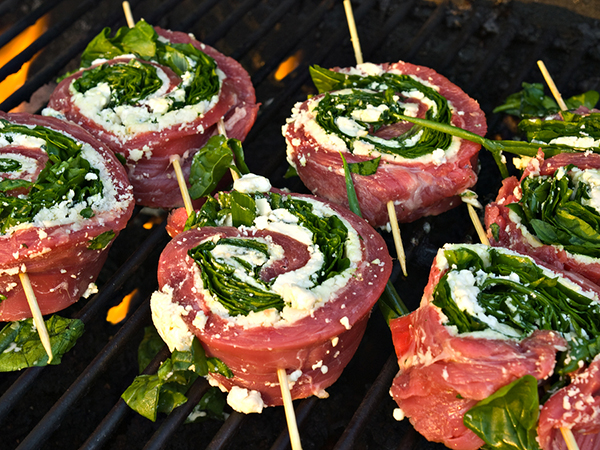 INGREDIENTS
• 1 1/2 lb. flank steak, *butterflied and pounded thin
• 1 cup low-fat ricotta
• 1 egg
• 1/2 tsp.each: salt and pepper
• 2 tsp. fresh minced garlic
• 1/3 cup reduced fat grated parmesan cheese
• 1 cup spinach leaves
• 2 whole scallions
• salt and pepper, to taste
• 8 to 10 wooden skewers, soaked in water
PREPARATION
• Preheat your grill at high temperature
• In a mixing bowl, combine ricotta, egg, garlic, salt, and pepper
• Lay butterflied steak onto a clean, flat surface. (*note: if you have never butterflied a steak before, the best thing to do is to watch a YouTube video on how to butterfly steak)
• Spread the cheese mixture evenly over the steak. Next, layer spinach leaves and scallions evenly distributed on top of the cheese mixture.
• Start at one end and roll the flank steak tightly away from you. Insert wooden skewers approximately 1-inch apart through the steak to hold it together.
• Season with salt and pepper, to taste.
• With a sharp knife, carefully cut between each toothpick to form even sized pinwheels.
• Put on the grill for approximately 3 minutes per side, or until desired level of doneness.
NUTRITION INFO
(Per serving recipe serves 4)
365 calories, 48g protein, 4g carbohydrates, 17.5g fat


RELATED CONTENT
Fit Fixins: Strawberry Vanilla Oat Parfait
Fit Fixins: Loaded Deviled Eggs
Fit Fixins: Black & Brownies
Grilled Florentine Stuffed Chicken BreastFit Fixins: Healthy Belgian Waffle
Fit Fixins: Inside Out Baked Apple Pie
ABOUT ALLISON FRAHN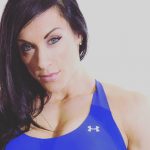 Allison is a five-time IFBB Figure Olympian who has a passion for healthy, yet delicious cooking. Allison owns Alli's Slim Pickins, Inc., a healthy food and recipe-based company. She is excited to share her years of experience with you and provide healthy recipes that proclaim her slogan: 100% Taste & 0% Guilt.
Want more recipes? Purchase Ali's recipe e-book here!