By Allison Frahn
There are many ways to turn your ordinary chicken and sweet potato meal into something extraordinary – and this is one of my favorites. My Mexican Style Chicken Stuffed Sweet Potatoes are full of flavor, fiber, and have an extra spicy kick to boost your metabolism and leave you satisfied for hours.
Enjoy!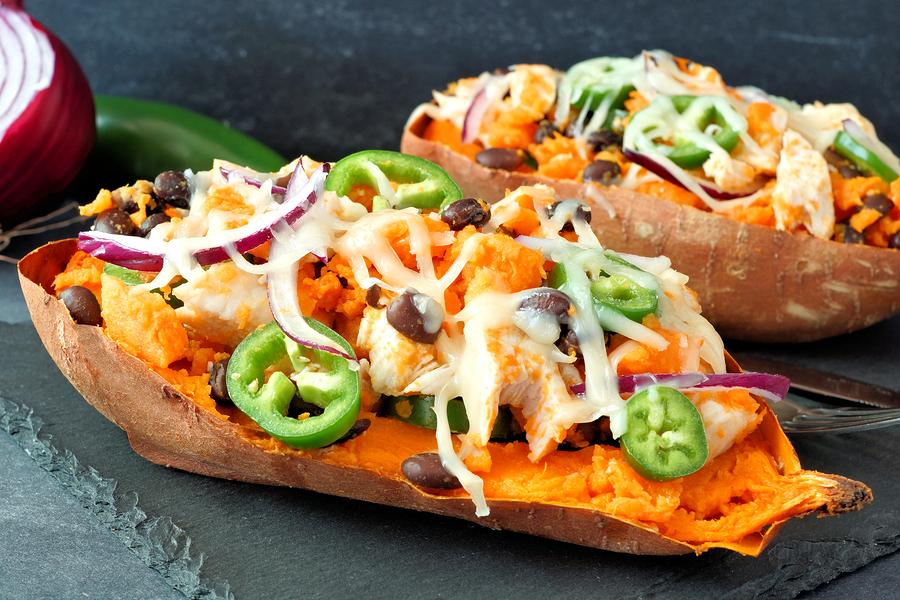 INGREDIENTS
• 12 oz sweet potato, baked or microwaved
• 8 oz grilled chicken (cooked), cut into bite size pieces
• 1/2 cup low sodium salsa (hot or mild)
• 1/3 cup canned black beans, drained and rinsed
• 1/4 cup low-fat shredded cheese
• 1/8 cup sliced red onion
• 1 jalapeno, sliced
• 2 tsp fresh lime juice
• 1/8 tsp ground cumin
• 1/8 tsp chili powder
• salt and pepper, to taste
PREPARATION
• Cook the sweet potato in either the microwave or oven until soft and tender.
• Preheat oven to 375 degrees.
• Carefully slice potato in half lengthwise (it will be very hot), and scoop out a small portion of the flesh into a mixing bowl.
• Line a baking sheet with foil and place the sweet potato halves on top.
• Add to the bowl the chicken, beans, red onion, jalapeno, lime juice, cumin, chili powder, salt, and pepper and mix to combine. Set aside.
• Scoop ¼ cup salsa onto each of the sweet potato halves. Then, scoop half of the chicken mixture over top of the salsa on each half.
• Next, divide the cheese mixture and sprinkle on top of each of the potato halves.
• Put in the oven and bake for about 6-8 minutes, or until cheese is melted. Enjoy!
NUTRITION INFO
(Per serving; recipe serves 2)
415 calories, 43g protein, 49.5g carbohydrates (9g fiber), 5g fat

RELATED CONTENT
Fit Fixins: Acai Fruit Smoothie Bowl
Fit Fixins: Sweet N' Spicy Chicken Meatballs
Fit Fixins: Ham & Pineapple Breakfast Pizza
Fit Fixins: Toasted Coconut Almond Protein Pancakes
Fit Fixins: Raspberry Peach Cheesecake Parfait

ABOUT ALLISON FRAHN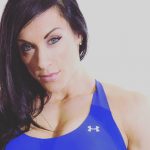 Allison is a five-time IFBB Figure Olympian who has a passion for healthy, yet delicious cooking. Allison owns Alli's Slim Pickins, Inc., a healthy food and recipe-based company. She is excited to share her years of experience with you and provide healthy recipes that proclaim her slogan: 100% Taste & 0% Guilt.
Want more recipes? Purchase Ali's recipe e-book here!