Can you believe another other holiday season is already here?
I'm always amazed at how fast time flies once the calendar turns to November. It seems like we were just celebrating Halloween, and now we're already past Thanksgiving and moving on to Christmas!
This is such a special time of year, and I hope you all cherish the times you will be spending with family and friends. Of course, this season usually comes with a few indulgences here and there, and rightfully so. But everything adds up, and you don't want to start missing workouts and lose all of the progress you made over the past 11 months, right?
The good news is, you don't have to – all you have to do is follow my 35 Day Holiday Workout Calendar!
The workouts start on the Monday after Thanksgiving (November 26 and will take you up to New Year's Eve.
Some weeks call for five days a week of weight training and some call for four – tapering down as we get closer to that always-crazy Christmas and New Year's week! That week can be very tough to find time to work out, especially if you are traveling and away from home. So that final week calls for three total-body workouts. Get them in when you can, because something is always better than nothing!
CARDIO
I recommend doing cardio a minimum of three times every week. Which days are up to you, whenever you have the time to fit it in. I have listed some suggested workouts below, but feel free to add your favorites. Remember, I always recommend wearing a heart rate monitor when doing cardio!
20-30 minutes of HIIT Cardio. Target Heart Rate (HR) range is from 120 (low intensity or rest intervals) to  190 bpm (high intensity intervals)
30-45 minutes of Interval or Steady State Cardio. Target Heart Rate is 140-160 bpm for Interval Cardio and Steady State Cardio.
Cardio Workouts
• Bosu Ball Tabata Cardio Workout (HIIT)
• 5 High Intensity Cardio Workouts (HIIT) 
• Bench Cardio Circuit Workout (HIIT)
• 4 Body Fat Blasting Cardio Workouts (HIIT/Interval)
• A Week Of Print-And-Go Cardio Workouts
ABS
Watching what you eat as much as possible (while still enjoying the holidays!) is going to be the most important aspect of keeping your abs through the holidays. But we still don't want to totally neglect them and forget to train them, right? Below are a few relatively quick ab workouts.
I recommend training abs 1-3 times a week, so you can either add these workouts to the end of your weight training workouts, or do them on one of your off days when you have some free time.
Ab Workouts
• Training Journal: Abs Workout
• Abs/Core Giant Set Workout
• Real Workout: Abs Superset Workout
• Real Workout: Olympia Prep Ab Superset Workout
THE CALENDAR
All of the workouts are linked from each day of this calendar. Just click on the image below to view the interactive calendar. Once you are there, just move your mouse/cursor over any day of the week with a workout and click to view the video! All days with workouts will link to that specific day's workout.
Not a member? Sign up here for just $9.95 a month to view all of the 35 Day Holiday Workout Calendar workouts!
**If you are having difficulty opening the links on the calendar, all of the days and workouts are hyperlinked below, under the calendar. Just click the muscle group(s) you are training, under the DAY, to view the video.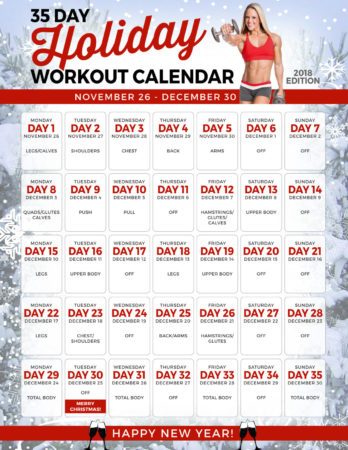 LINK: 35 Day Holiday Workout Calendar
WEEK 1
DAY 1: MONDAY
Legs/Calves
DAY 2: TUESDAY
Shoulders/Abs
DAY 3: WEDNESDAY
Chest
DAY 4: THURSDAY
Back
DAY 5: FRIDAY
Arms
DAY 6: SATURDAY
OFF
DAY 7: SUNDAY
OFF
WEEK 2
DAY 8: MONDAY
Quads/Glutes/Calves
DAY 9: TUESDAY
Push
DAY 10: WEDNESDAY
Pull
DAY 11: THURSDAY
OFF
DAY 12: FRIDAY
Hamstrings/Glutes/Calves
DAY 13: SATURDAY
Upper Body
DAY 14: SUNDAY
OFF

WEEK 3
DAY 15: MONDAY
Legs
DAY 16: TUESDAY
Upper Body
DAY 17: WEDNESDAY
OFF
DAY 18: THURSDAY
Legs
DAY 19: FRIDAY
Upper Body
DAY 20: SATURDAY
OFF
DAY 21: SUNDAY
OFF

WEEK 3
DAY 22: MONDAY
Legs
DAY 23: TUESDAY
Chest/Shoulders
DAY 24: WEDNESDAY
OFF
DAY 25: THURSDAY
Back/Arms
DAY 26: FRIDAY
Hamstrings/Glutes
DAY 27: SATURDAY
OFF
DAY 28: SUNDAY
OFF

WEEK 4
DAY 29: MONDAY
Total Body
DAY 30: TUESDAY
OFF – Merry Christmas!
DAY 31: WEDNESDAY
Total Body
DAY 32: THURSDAY
OFF
DAY 33: FRIDAY
Total Body
DAY 34: SATURDAY
OFF
DAY 35: SUNDAY
Total Body
WEEK 5
DAY 36: MONDAY
OFF – Happy New Year!