By Allison Frahn
If eating a big bowl of spaghetti with meat sauce is on your mind, but not on your nutrition plan, then you will love my version instead. My recipe uses the oh-so-popular zucchini noodles instead of the real thing. The beauty about this is that you can eat a ton of these with very little calories and because they are so versatile, you can use them in a variety of dishes. By topping the zoodles with this homemade meat sauce – you'll almost forget you're not truly indulging. Enjoy!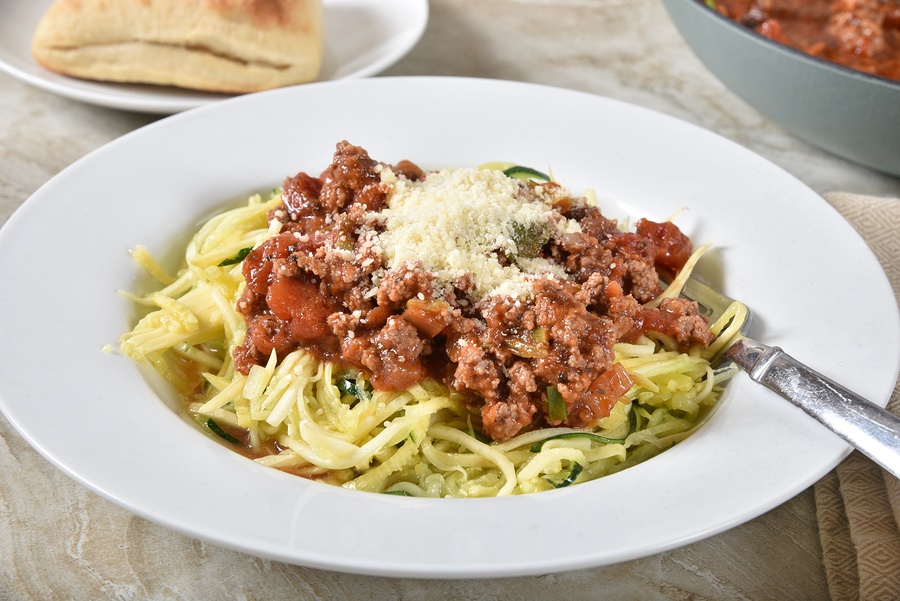 INGREDIENTS
• 1 1/2 lbs 96% extra lean ground beef
• (2) 29 oz cans tomato puree
• (1) 28 oz can diced tomatoes
• 1/2 cup onion, finely chopped
• 1/4 cup granulated sweetener
• 2 fresh basil leaves, finely chopped
• 1 tbsp fresh minced garlic
• 1 tbsp olive oil
• 2 tsp lemon juice
• 2 tsp sea salt, or to taste
• 2 tsp dried oregano
• 1 tsp dried thyme
• 1 tsp crushed chili flakes (or red pepper flakes)
• 2 large zucchini or yellow squash
PREPARATION
• Spiralize your zucchinis to create your noodles. Set aside. (if you don't have a spiralizer, search the internet for an alternative – there are plenty!)
• Spray a large sauce pan with non-stick cooking spray and place over medium-high heat. Add beef, onions, garlic, and crushed chili flakes and cook until browned, stirring frequently. Drain.
• Place pan back over heat and add in the tomato puree, diced tomatoes, sweetener, basil, salt, oregano, thyme, and lemon juice. Bring to a boil, stirring frequently.
• Reduce to low heat and simmer for 45-50 minutes, stirring on occasion, or until the sauce has thickened.
• When the sauce is almost done cooking, prepare the zoodles (zucchini noodles).
• Heat 1 tbsp of olive oil in a large skillet over medium heat.
• Add the zucchini noodles and sauté for 5 minutes, until just tender and al dente.
• Spoon the meat sauce over the zoodles and eat while it's nice and hot. If you like, season with some light parmesan cheese (optional). Enjoy!
NUTRITION INFO
(Per serving; recipe serves 4)
405 calories, 43g protein, 35g carbohydrates (6g fiber), 11g fat


RELATED CONTENT
Fit Fixins: Frosted Chocolate Raspberry Cupcakes
Fit Fixins: Chicken Enchilada Zucchini Rollups
Fit Fixins: Apple Spice Pancakes
Fit Fixins: Homemade Asian Chicken & Garlic Sauce
Fit Fixins: Edible Snowman & Kiwi Christmas Tree
ABOUT ALLISON FRAHN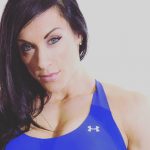 Allison is a five-time IFBB Figure Olympian who has a passion for healthy, yet delicious cooking. Allison owns Alli's Slim Pickins, Inc., a healthy food and recipe-based company. She is excited to share her years of experience with you and provide healthy recipes that proclaim her slogan: 100% Taste & 0% Guilt.
Want more recipes? Purchase Ali's recipe e-book here!