Sometimes a little change how we prepare our food can be so refreshing, as it allows us variety while still the healthy staples in our meals.
One staple on most fitness-conscious breakfast lists? Egg whites and oatmeal. But instead of the basic version every day, try an omelet or a breakfast wrap.
Breakfast wraps are very easy to make and also perfect for those times when you need to eat on the go. My Guiltless Breakfast Wrap is low in carbs, but feel free to swap out for your own favorite wrap. In addition, have fun and be creative by changing up the ingredients to your liking. Enjoy!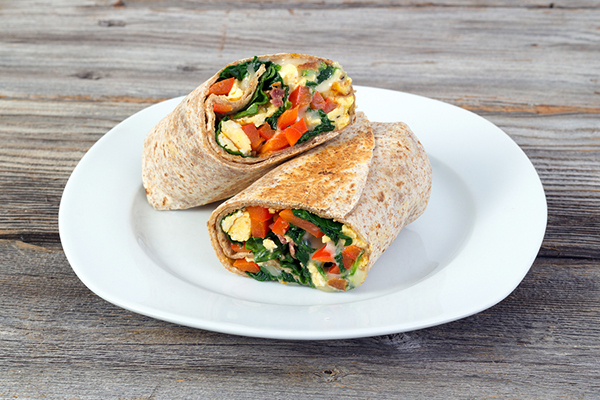 INGREDIENTS
• 1 large low carb wrap (i.e. La Tortilla Factory)
• 1 slice turkey bacon
• 3 egg whites
• 1 large egg, lightly beaten
• 1 cup fresh spinach leaves
• 1/2 red bell pepper, finely diced
• 1/4 tomato, finely diced
• 2 tbsp onion, minced
• 1/4 cup low-fat mozzarella cheese
• Salt and pepper, to taste

PREPARATION
• Preheat the oven to 400 degrees.
• Scramble the egg whites and egg with a fork in a mixing bowl, add salt and pepper, to taste. Set aside.
• Coat a large skillet with non-stick cooking spray and place over medium-high heat
• Cut up the turkey bacon into small pieces and add to the pan. Cook until the bacon is nice and crispy.
• Add the diced pepper, tomato, onion, and salt and pepper, to taste. Cook until veggies are just tender.
• Pour the scrambled egg mixture into the pan and mix well. Cook until the eggs are to your desired consistency. Add the spinach leaves to the pan and cook for about one minute, or until the leaves just start to wilt.
• Turn off the heat and put the skillet on a cool burner. Sprinkle the cheese on top of the egg mixture. The pan will still be hot so the cheese will melt.
• Put the wrap in the oven for approximately 2-3 minutes, or until the wrap turns light golden brown (optional)
• Remove wrap from the oven and put on a plate. Transfer the egg mixture on top of the wrap and wrap it up! Enjoy!
NUTRITION INFO
(Per wrap; recipe makes 1)
375 calories, 37g protein, 23g carbohydrates (15g fiber), 15g fat


RELATED CONTENT
Fit Fixins: White Chocolate Raspberry Protein Waffles
Fit Fixins: Reduced Carb Whipped Mashed Potatoes
Fit Fixins: Almond Butter Protein Bites
Fit Fixins: Crispy Apple Cinnamon Chips


ABOUT ALLISON FRAHN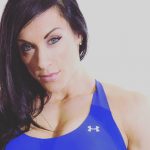 Allison is a five-time IFBB Figure Olympian who has a passion for healthy, yet delicious cooking. Allison owns Alli's Slim Pickins, Inc., a healthy food and recipe-based company. She is excited to share her years of experience with you and provide healthy recipes that proclaim her slogan: 100% Taste & 0% Guilt.