Poké has become all the rage lately. So what is it?
It's actually a dish that is everywhere in Hawaii -you can even go to a grocery store there and find 20 different versions! It is fresh fish (usually tuna) that is cut into thick cubes and mixed as a free-form salad. This is one of my favorite variations below.
Enjoy!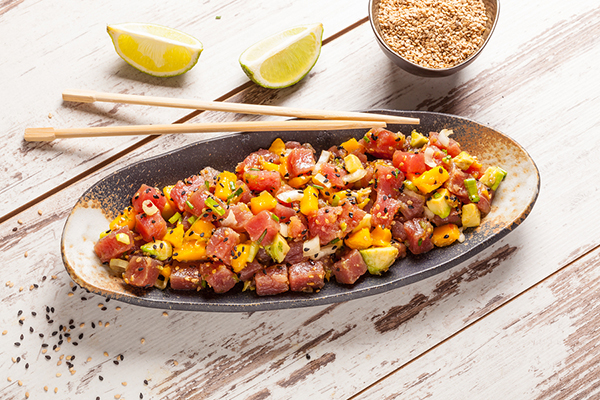 INGREDIENTS
Tuna
• 1 lb raw sushi-grade ahi tuna, cut into bite-size cubes
• 1/2 orange, sections, cut into bite-size pieces
• 1 small avocado, cut into bite-size pieces
• 1 green onion or scallion, thinly sliced
Sauce
• 3 tbsp reduced-sodium soy sauce
• 2 tsp toasted sesame oil
• 1 tsp rice wine vinegar
• 1 tsp red pepper flakes
• 1 tsp toasted sesame seeds
• 1/2 tsp fresh garlic, minced
• Fresh lemon or lime wedges
• Pickled ginger, optional
PREPARATION
• In a small bowl, whisk together soy sauce, sesame oil, vinegar, pepper flakes, sesame seeds, and garlic until combined. Add the tuna pieces, orange pieces, and scallion. Gently mix to combine and then let sit for about 10 minutes to allow flavors to come through.
• Add the avocado pieces to the tuna mixture and gently mix until well combined.
• It's ready to serve! Squeeze fresh lemon and/or lime wedges on top with some pickled ginger. Enjoy!
Serving Options: serve over brown rice, seaweed salad or salad greens for a lighter meal, or just eat on it's own – any way, it's delicious!

NUTRITION INFO
(Per serving; recipe serves 4)
255 calories, 36g protein, 5g carbohydrates (0.5g fiber), 10.5g fat


RELATED CONTENT
Fit Fixins: Dessert Fruit Pizza
Fit Fixins: Low-Carb Italian Pasta Salad
Fit Fixins: Oatmeal Raisin Breakfast Cookies
Fit Fixins: Grilled Vegetable Flatbread Pizza
Fit Fixins: Flank Steak Pinwheels
Fit Fixins: Strawberry Vanilla Oat Parfait
Fit Fixins: Loaded Deviled Eggs
ABOUT ALLISON FRAHN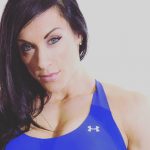 Allison is a five-time IFBB Figure Olympian who has a passion for healthy, yet delicious cooking. Allison owns Alli's Slim Pickins, Inc., a healthy food and recipe-based company. She is excited to share her years of experience with you and provide healthy recipes that proclaim her slogan: 100% Taste & 0% Guilt.
Want more recipes? Purchase Ali's recipe e-book here!