My 60 Day Total Body Transformation Challenge is right around the corner! The Challenge starts on Monday and the signup period ends on Sunday night.
If you're thinking about entering, remember – I create all of my Challenges from scratch, so every program is different from the last – new workouts, new nutrition plans and more!
But, if you're wondering what you can expect from the workouts, here's one from a previous 60 Day Transformation Challenge.
This is a Push Workout – meaning it will work your chest, shoulders and triceps,  from the cutting (losing body fat) phase of that Challenge.
This workout incorporates the Triset intensity technique, where you perform the exercises in each triset back-to-back-to-back without resting until you finish all three movements. Rest for 45-60 seconds after each triset is completed.
It's meant to be fast-paced and get your heart rate pumping to help you burn more fat, while building muscle.
Give it a try and make sure to click the graphic below to check out my new 60 Build & Burn Challenge starting on January 9!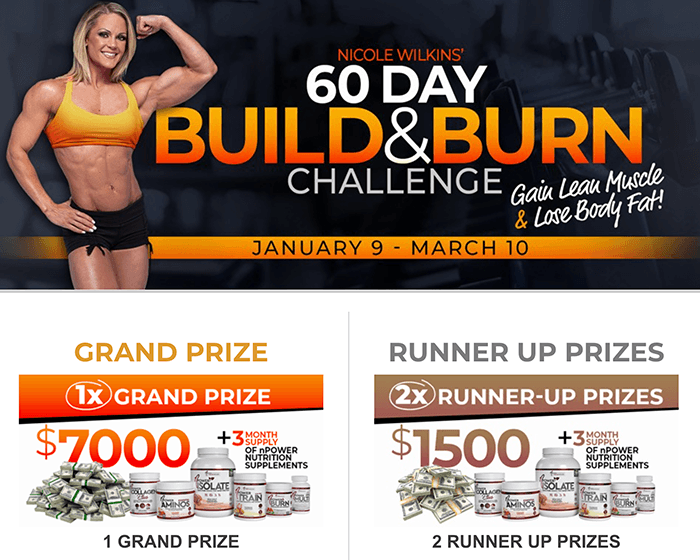 (click the image to enlarge and save)

Incline Pushup (warmup)
Sets: 3
Reps: 15-20 (warmup)
TRISET
Alternating Landmine Press
Sets: 3
Reps: 12-15 (each arm)
Decline Pushup
Sets: 3
Reps: 10-15
Bench Dip
Sets: 3
Reps: AMRAP
TRISET
Bench Press
Sets: 3
Reps: 12-15
Around-The-World Lateral Raise
Sets: 3
Reps: 12-15
Overhead Dumbbell Triceps Extension
Sets: 3
Reps: 12-15
TRISET
Incline Barbell Front Raise
Sets: 3
Reps: 12-15
Incline Dumbbell Flye
Sets: 3
Reps: 12-15
Dumbbell Kickback
Sets: 3
Reps: 12-15
Not entered in the 60 Day Total Build & Burn Challenge? Click the graphic below for more info!