Move over Chipotle! Well, not too far over because I still happen to be a big fan.
However, sometimes it's just better (and healthier) to remake some of your favorites at home. So I decided to create my own Grande Chicken Burrito Bowl – it's packed with flavorful, healthy ingredients and it is super easy to make.
Enjoy!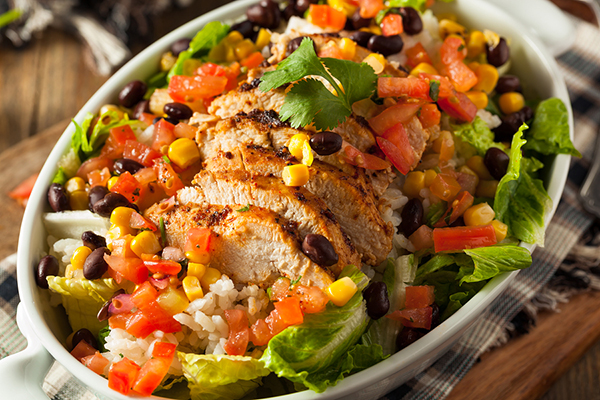 INGREDIENTS
• 6 oz chicken breast, pounded to even thickness
• 1/8 tsp cumin
• 1/8 tsp garlic powder
• 1/8 tsp paprika
• Salt and black pepper, to taste
• 3 cups romaine lettuce, chopped into bite size pieces
• 1/2 cup white rice, cooked
• 1/3 cup fresh tomatoes, diced
• 1/3 cup canned corn
• 1/3 cup canned black beans, rinsed
• 1 tbsp lime juice
• 1 tsp granulated stevia, or your preferred sweetener
PREPARATION
• Put the cumin, garlic powder, paprika, salt, and pepper into a small Ziploc bag. Add the chicken breast. Seal the bag and shake well to coat the chicken breast. Set aside.
• Spray a skillet with non-stick cooking spray and set over medium-high heat.
• Remove your chicken breast from the seasoning bag and cook for 6-8 minutes, then flip and cook for an additional 4-6 minutes, or until chicken is fully cooked, nicely browned on the outside, and no longer pink in the center.
• While the chicken is cooking, prepare your burrito bowl.
• In a small bowl, combine the black beans, diced tomatoes, corn, cilantro, lime juice, and sweetener. Mix well.
• In a large bowl, put your salsa on the bottom (I find it to be much easier to eat this way …and less messy). Next, layer the lettuce, then the rice, then the black bean mixture.
• Once chicken is done, remove from heat and slice. Place over the top of your prepared burrito bowl. Enjoy!
NUTRITION INFO
(Per bowl; recipe makes 1)
460 calories, 50.5g protein, 57.5g carbohydrates (8g fiber), 3.5g fat
NUTRITION DATA
(Per serving; recipe serves 2)
305 calories, 11.5g protein, 42g carbohydrates (5g fiber), 10g fat
RELATED CONTENT
Fit Fixins: Frosted Carrot Cake Overnight Oats
Fit Fixins: Skinny Butternut Squash Fries
Fit Fixins: Zucchini Cheesy Waffles
Fit Fixins: Peanut Butter Chip Oatmeal Cookies
Fit Fixins: Sunny Side Portobello Mushrooms
ABOUT ALLISON FRAHN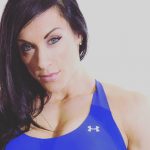 Allison is a five-time IFBB Figure Olympian who has a passion for healthy, yet delicious cooking. Allison owns Alli's Slim Pickins, Inc., a healthy food and recipe-based company. She is excited to share her years of experience with you and provide healthy recipes that proclaim her slogan: 100% Taste & 0% Guilt.