This beautiful dish is easy and quick to prepare – perfect if you're crunched for time but still want to impress your dinner guests. The key here is that the tuna steak must be sushi-grade super fresh. Make sure the tuna doesn't have a "fishy" smell. Enjoy!

INGREDIENTS
• (4) 6-oz raw sushi-grade ahi tuna steaks, roughly 1 inch thick
• Salt and freshly ground pepper, to taste
• 1⁄4 cup each: black and white sesame seeds (you will have extra)
• 2 tbsp grapeseed oil
Soy Ginger Lime Sauce:
• fresh squeezed juice from 2 limes
• 3 tbsp reduced-sodium soy sauce
• 2 tbsp granulated stevia
• 2 tsp ginger, minced
• 1 tsp sesame oil
• 2 tsp water
• 1/2 tsp red chili flakes
PREPARATION
• In a small mixing bowl, combine all ingredients for Soy Ginger Lime Sauce and stir until well blended. Set aside.
• Mix black and white sesame seeds in a small bowl. Pour onto a plate and spread out.
• Pat tuna steaks with a paper towel to remove excess water. Season with salt and pepper and then press into sesame seeds, coating the tuna evenly. Shake off any excess.
• Place a large frying pan over medium-high heat and add the grapeseed oil. Heat until oil just begins to sizzle.
• Frying two steaks at a time, arrange the tuna in the pan (do not overcrowd, as you don't want any liquid to form) and cook until the sesame seeds start to turn golden underneath, about 1 minute. Turn steaks over and cook for an additional minute. Take tongs (or a fork) to lift the steak and sear the edges for 15 seconds on each side.
• Transfer the steaks to a plate with a paper towel, gently patting to soak up any excess oil.
• Repeat steps 5-6 above for remaining two tuna steaks.
• Once cooked, cut steaks into ¼-inch thick slices. Arrange tuna on individual serving plates. Serve with soy ginger lime sauce, wasabi, lemon wedges and/or pickled ginger. Enjoy!
NUTRITION INFO
(Per ahi tuna steak; recipe serves 4)
390 calories, 55g protein, 5g carbohydrates (1g fiber), 16.5g fat

RELATED CONTENT
Fit Fixins: Blueberry Protein Muffins
Fit Fixins: Lemon Shrimp And Asparagus Stir Fry
Breakfast Stuffed Peppers
Fit Fixins: Grilled Lamb Kebabs
Fit Fixins: Mexican Style Chicken Stuffed Sweet Potatoes
ABOUT ALLISON FRAHN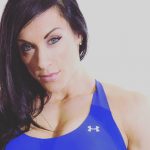 Allison is a five-time IFBB Figure Olympian who has a passion for healthy, yet delicious cooking. Allison owns Alli's Slim Pickins, Inc., a healthy food and recipe-based company. She is excited to share her years of experience with you and provide healthy recipes that proclaim her slogan: 100% Taste & 0% Guilt.
Want more recipes? Purchase Ali's recipe e-book here!