There are so many delicious recipes that you can make with apples, especially around this time of year.
One of my favorites – Crispy Apple Chips! They are so easy to make and provide a healthy, low-cal snack with all the flavors of the season.
The key to crispy apple chips is to slice them as thin as possible. The easiest way to do this is by using a mandolin, as it's so much quicker, easier, and more efficient that using a knife.
The other key factor to successful chips is by cooking them at a very low temp (200 degrees F), as I've tried to cook them at higher temperatures to hurry the process, but I just end up burning my chips.
If you have any specific requests or would like to share your feedback on the above recipes, leave your comments below. Enjoy!
INGREDIENTS
• 2 of your favorite variety apples (my favorites for this recipe are Gala and Fuji)
• 2 tsp vanilla
• 2 tbsp granulated stevia (or your preferred sweetener)
• 4 tsp ground cinnamon
• 1 tsp salt, or to taste

PREPARATION
• Place your oven racks on the very top and very bottom. Preheat your oven to 200 degrees F.
• Line two baking sheets with parchment paper. Set aside.
• Wash and core your apples. Next, use a mandolin or sharp knife (be super careful with either method) and slice your apples as thin as possible; the thinner the better! Then, slice the apple rounds in half to form moon shape pieces.
• Place the apples into a large bowl and add the vanilla, stevia, cinnamon, and salt. Toss to coat well.
• Arrange the apples in a single layer onto the two baking sheets. Place one sheet on the top rack and the other on the bottom rack. Bake for 1 hour.
• Swap the position of the baking sheets by putting the lower onto the top and vice versa and bake for an additional 1-1.5 hours.
• You will test your apples to ensure that they are done by removing one apple slice and letting sit for about 3 minutes to completely cool (they crisp as they cool). If they are to your desired crispiness, turn the oven off and let them sit in there for about 30 minutes before removing the baking sheets . If you want them crispier, let them continue to cook and keep re-testing until you are happy.
• Once you have removed the baking sheets from the oven, allow the chips to completely cool at room temperature. Enjoy!
NOTE: store your chips in an airtight container

NUTRITION INFO
Per serving (recipe makes 4)
460 calories, 50.5g protein, 57.5g carbohydrates (8g fiber), 3.5g fat

RELATED CONTENT
Fit Fixins: Pumpkin Chocolate Chip Muffins
Fit Fixins: Grande Chicken Bowl
Fit Fixins: Frosted Carrot Cake Overnight Oats
Fit Fixins: Skinny Butternut Squash Fries
Fit Fixins: Zucchini Cheesy Waffles
Fit Fixins: Peanut Butter Chip Oatmeal Cookies
ABOUT ALLISON FRAHN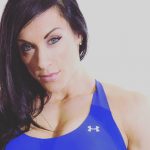 Allison is a five-time IFBB Figure Olympian who has a passion for healthy, yet delicious cooking. Allison owns Alli's Slim Pickins, Inc., a healthy food and recipe-based company. She is excited to share her years of experience with you and provide healthy recipes that proclaim her slogan: 100% Taste & 0% Guilt.